Say goodbye to hours of manual data entry
Dext Prepare collects and extracts your paperwork with 99% accuracy, then automatically processes it to your accountancy software. Giving you more time to focus on work that adds value.
What does Dext Prepare do?
Dext Prepare is a brilliantly simple way to bring all your paperwork together in a standardised, digital format. Whether it's a receipt, an invoice or a bank statement, upload it and Dext will extract the data you need, then send it to your accounting software. So you get the accurate numbers you need, without having to sit and enter them manually.
Upload your receipts and invoices to Dext Prepare via mobile app, email or auto-invoice fetch.
Dext Prepare extracts relevant data, then uploads it to your accounting system.
You get all the figures you need in a standardised digital format. Oh, and the data's also stored for 7 years using bank-level encryption.
Market-leading accuracy
Dext Prepare captures and processes paperwork with 99% accuracy, giving you peace of mind that you're working with the best quality data.
All the integrations
Dext Prepare integrates with various accounting software and supports over 11,500 banks and institutions. So whatever you already work with, Dext Prepare will work for you.
Save hours of manual labour
Accountancy firms that use Dext Prepare tell us it saves them up to 5.5 hours per client, per month on manual data processing.
Enjoy better bookkeeping efficiency
Data-driven insights
Get a clear, in-depth view of your client's bookkeeping data
Filter and drill down to focus on the data you want to see
Spot trends, bottlenecks, opportunities and more
Available on our Optimize plan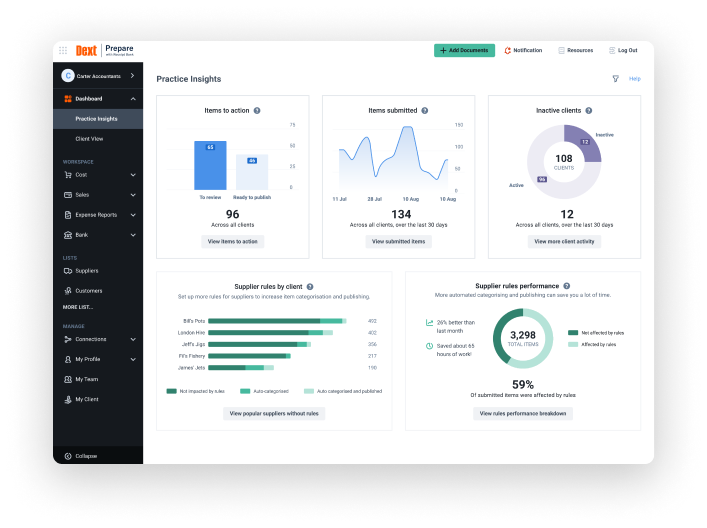 Expense management made easy
Snap paper receipts and financial documents in one click
Analyse and extract the important information
Publish it to your accounting software of choice
Manage MTD for income tax with one simple tool
The end-to-end solution to support you and your clients with making tax digital for income tax self-assessment (MTD ITSA).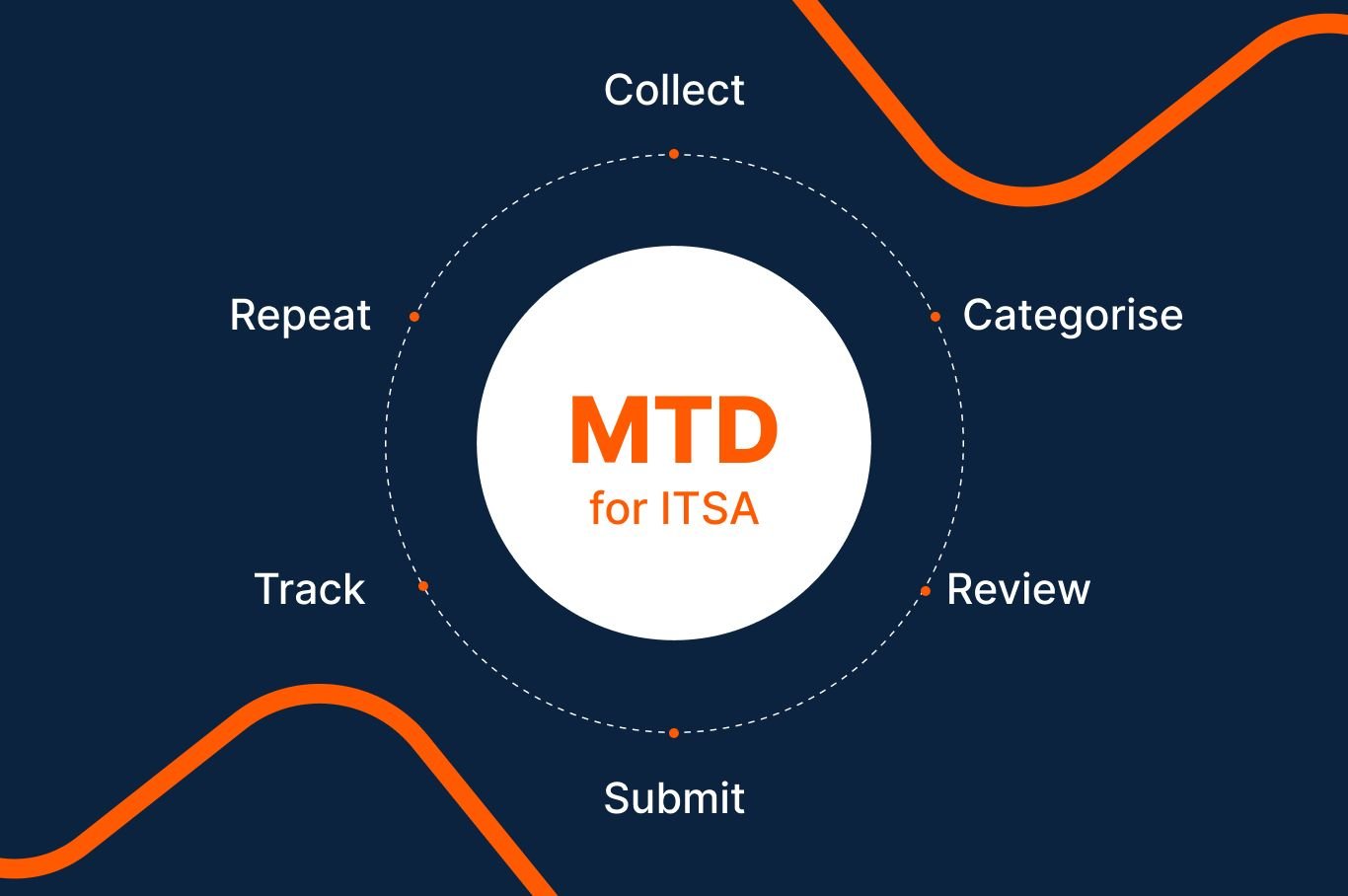 Benefits for Accountants & Bookkeepers
Free your team up to work more closely with clients
Bookkeeping paperwork is time consuming. Dext Prepare provides market-leading data capture and processing, then publishes it to your accounting software. Your teams' time is free for more valuable work, and you gain the confidence of knowing you're working with the most accurate data.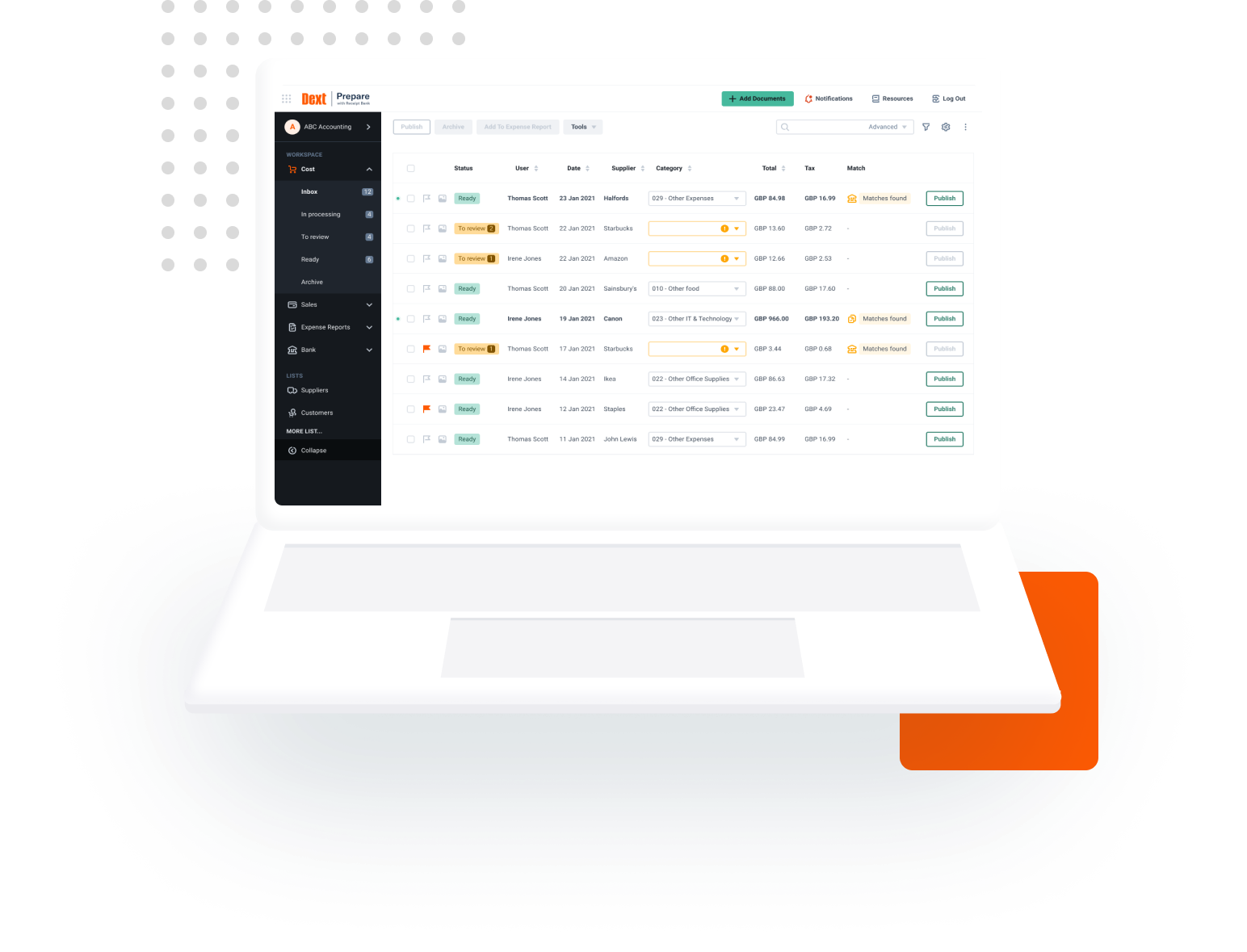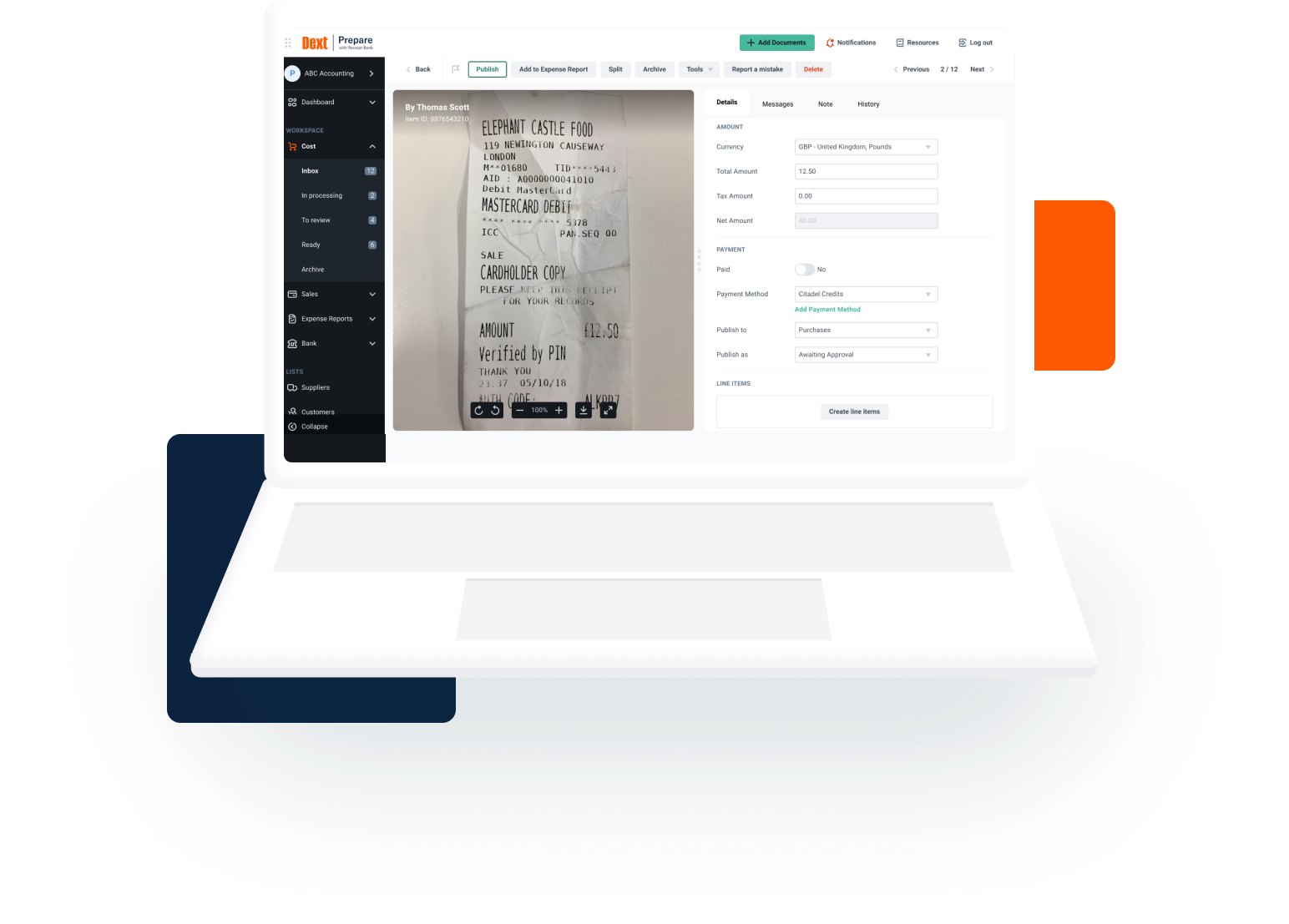 Benefits for Small/Medium Businesses
The figures you need, with none of the hassle
Finance is a fact of any business, but bookkeeping tasks take time away from the things that help your business grow. With Dext Prepare, you can snap, extract and analyse the data you need. So you gain control and confidence when it comes to your figures, without being slowed down.